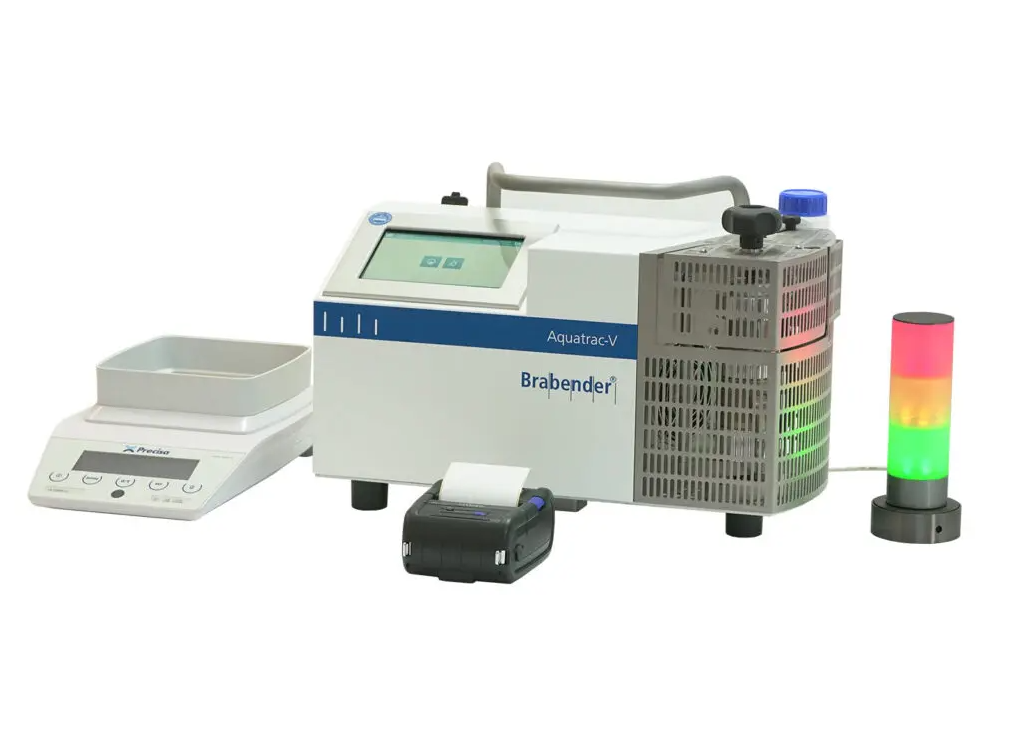 Brabender Messtechnik Aquatrac-V Moisture Meter for Plastics Described in ISO 15512:2019 "Plastics – Determination of water Content" as measuring method E.
The water content of High-Tech plastic material has a great influence on the quality of the finished product. The test should be made swiftly on an instrument having a simple test procedure.
AQUATRAC®-V is the result of continual further development of the popular AQUATRAC product, which has been on the market for over 20 years now. Developed primarily for the plastics-processing industry, the device measures the moisture content of granular solids. AQUATRAC®-V is robust, compact and easily transportable thanks to its new mobility! This means there are many different ways to use AQUATRAC®-V directly at the production site, for example:
• To check incoming granulates
• To monitor and optimise the drying of granulates
• To measure granulates right at the machine
• To take measurements from a finished component, e.g. after conditioning
• To take laboratory measurements
• And many more!
As the principle of operation is an absolute chemical method, no calibration is required for each different substance tested. AQUATRAC®-V can be used independently of a computer or other peripheral.
AQUATRAC-V Specifications
Measurement principle / test methods: Chemical reaction with calcium hydride according to DIN EN ISO 15512:2019
Sample weight / sample volume From 0,1g / max. 130 cm3
Resolution 0,01 mg / 1 ppm / 0,0001 % H2O
Precision better than +/- 0,6mg of measuring range end value (±1%)
Measuring range 0,0001 – 60 % H2O (relative) / 0,01 – 60 mg H2O (absolute)
Measuring temperatures 60°C – 200°C in 1°C steps
Measuring time Approx. 10 – 60 min. depending on material
Display %, ppm, mg
Interfaces 3 × USB 2.0, 1 × Ethernet
Power supply 100, 115, 230 V / 50/60 Hz / 450 W, version-dependent
Operating temperature 10 – 45 °C
Air humidity 5 – 95 %, non-condensing
Protection class IP20
Dimensions (W x H x D) / Weight 510 × 325 × 230 mm / 14,2 kg