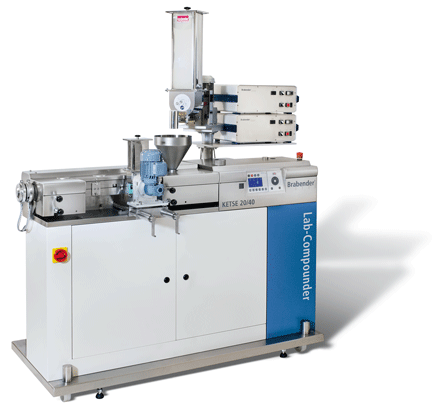 The Brabender Twin Screw Lab-Compounder KETSE 20/40 D has its own independent drive unit. With this integrated motor higher speeds (max. 1200 rpm, can be achieved. The solid design as well as the convincing technical features make the KETSE 20/40 the ideal solution for laboratory applications.
The processing unit of the KETSE 20/40 consists of a horizontally divided barrel with a length of 40 D which can be tilted open and allows visual assessment of the processing steps. Thus comfortable removal and quick cleaning of the barrel is facilitated. In addition to the main metering, metering or venting ports at a barrel length of 10 D, 20 D and 30 D are available. Side feeders can be installed at a processing length of 12 D and 22 D.
The modular screw conception offers all individual processing possibilities. Further Brabender® accessories like metering systems as well as various downstream equipment are available to build complete extrusion lines.