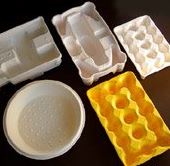 Inmaco is a global supplier of sustainable packaging technology. We design and manufacture tailor-made equipment for the production of paper, cardboard and moulded packaging products.
The Markhorst MT/FP series of fine pulp moulding machines produce paper based packages from moulded pulp. The wet formed products are dried in heated moulds and are dry and finished when they are ejected from the machine.
The paper based packages which this machine produces all have:
a very smooth and dust free surface on both sides;
An accurate size;
a perfect shape.
This translates into enhanced appearance and perfect automatic handling and nesting or denesting. The system has a compact and energy saving design, as it does not need a bulky dryer.
Inmaco offers the complete, automatically functioning system, including stock preparation. We supply three machine versions:
a compact version with one drying station;
a mid-range system with three drying stations.
Our top model is the MT/FP-100, which allows the production of high volumes by automated stock preparation and increased drying capacity.